Slane
Slane is an elegant 18th century, hillside estate village situated on the River Boyne. Slane is an ancient and historic town with fine examples of Georgian houses.
Situated at an important intersection on the road from County Dublin to County Derry and the Northwest of Ireland, Slane has a long history of welcoming visitors.
Slane is proud to be the birthplace of the noted Irish poet Francis Ledwidge, 1887-1917. The Ledwidge Cottage Museum commemorates his life.


Slane Castle
Slane Castle is set in a 1,500 acre estate. It is surrounded by valleys and woodlands on the banks of the River Boyne. A fire in 1991 caused serious damage to the building. It took ten years to restore the eastern side of the castle and when it was restored in 2001, it opened to the public. Slane Castle is a perfect venue for weddings, conferences, business/training events and corporate hospitality. Apart from all the venues that it can hold, Slane Castle is famous for hosting the largest outdoor concerts in Ireland. Some acts that have played in Slane Castle are The Rolling Store, U2, Queen and the Kings of Leon.
The Hill of Slane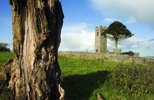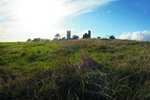 St. Patrick has become synonymous with things Irish; from shamrocks to the shortage of snakes on this Isle, but there was a time when he was viewed as a foreign Christian missionary come to convert Ireland's Celtic pagans. This he did with great symbolic flare. As the Druids celebrated their feast day on the Hill of Tara, Patrick prepared the Easter feast on the Hill of Slane. He lit his paschal fire at Slane, before the Druids could kindle their sacred fire at Tara. Seeing the flames at Slane, the Druids, warned Laegaire, the High King, that if Patrick's fire was not put out immediately, it would burn forever in Ireland. The rest is history.
Location
Just outside Slane off the N2
Open
All year Admission free
Accommodation

Specialist Accommodation
Tankardstown House

Self Catering
Accommodation Listing
Hostels
Accommodation Listing
Food and Drink
Brabazon at Tankardstown House
Things to Do
Slane Local Heroes/ Tourist Office
No. 2,
Main Street,
Slane,
Co. Meath.