Angling
The Waters Of The Boyne Valley
At first glance the waters of the Boyne Valley are simply beautiful. Those meandering rivers and idyllic lakes set against picturesque landscapes of pastoral paradise. What the cursory glance doesn't reveal is that the waters of the Boyne Valley and all that lives in them are no less than enchanted. It's difficult to explain, but suffice to say it begins with the tree of knowledge and its magic acorns. These fall in the water and are eaten by the fish, which in turn . . .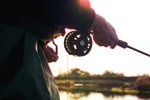 The Fisherman's Solitude
"Little waves put out their white tongues, Just beyond the mossy weir, Where the jewelled trout are leaping, And the heron flings his spear. "
Meath's poet laureate, Francis Ledwidge knew a thing or two about why anglers are so attracted to the waters of the Boyne Valley. Granted a longer life he would no doubt have put pen to paper in praise of the County's equally enchanting lakes.
In Meath you will find superb game, coarse and sea angling. It will satisfy the expectations of specialist, experienced and novice anglers alike. There is a great diversity of waters in this fishery and you are invited to sample the quality and variety of fishing for yourself.
Game Angling
Game angling is available on the River Boyne and it's tributaries as well as on a series of small to medium sized lakes, which are located near Collinstown and Fore in Co. Westmeath.
Course Angling
The lakes around Bailieboro and Virginia to the North-West and a number of lakes near Collinstown and Delvin hold excellent stocks of coarse fish as do the Royal and Grand canals at Enfield and Edenderry.
Sea Angling
Sea anglers are provided for on the stretch of coastline from Clogherhead South to Laytown and at the mouth of the Boyne where it flows into the Irish Sea.
The proximity of the Boyne Valley to major airports and sea ports means that quality angling is only an hours drive away. The Boyne Valley has much to offer as an angling destination and is well worth a visit.