Navan
County Meath's market town Navan is a thriving business and commercial town with a host of shopping, nightlife & entertainment opportunities for visitors.
The town has a variety of restaurants and pubs. Also there are a number of sporting features including Navan Golf Club and Navan Racecourse. There are also a number of other golf clubs in the surrounding area such as Royal Tara Golf Club.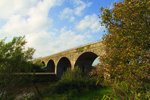 The Blackwater River joins with the River Boyne on the eastern side of the town at the ancient Poolbeg Bridge. Some beautiful riverside walks are available.
The great Mote (Navan Motte) just outside the town is the best place to view the surrounding countryside
Accommodation in and around Navan
Hotels

Newgrange Hotel
The Station House Hotel
B&Bs

Teach Tailteann
Yellow House B&B
Teach na Teamhrach (Tara House)

Self Catering

Balrath House
Decoy Country Cottages
Retro Campervans


Food and Drink
Things to Do
The Zone Extreme Activity Centre
Boyne Ramparts Walk
Balrath Forest Walk
Navan Golf Club
Navan Race Course
Royal Tara Golf Club
Shopping in Navan
Solstice Arts Centre
Recommended Shops
Crafts
Seamus Cassidy- Woodturner & Cabinetmaker
Colette Gough - Freehand ink drawer
Jan Muyllaert - Instrument Maker
Click here to Download a brochure of Navan pdf,408kb