Planning
Meath County Development Plan 2019-2025 website
Meath County Development Plan 2013-2019 website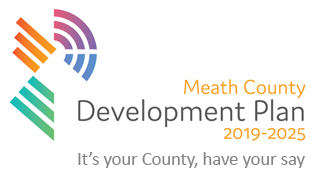 The planning process is an open and public one.
In that context all submissions/observations are a matter of public record and may also be placed on the Council's website.
Planning files from the period 1972 (72/900) to 1980 (80/1599) inclusive are only available from archives. A fee of €20 applies for a Planning Search and Retrieval of these files, which will be emailed to you within 3 working days.
Notice, 14 September 2015 - Amendment to Planning Application Form
The Planning Application Form, question 16 relating to Part V, has been amended to comply with the Planning and Development Regulations 2015 - SI No. 387 of 2015, www.environ.ie.
The revised Planning Application Form is to be used with immediate effect, visit http://www.meath.ie/CountyCouncil/Planning/MakingAPlanningApplication/ to download the amended form.
Popular
Development Plans and Publications
Meath County Development Plan 2013-2019
Notice, 1st June 2014, Planning Related Correspondence
Planning related correspondence will not be accepted at any Municipal District Offices, former Town Council Offices or any other Offices other than the
Planning Department, Buvinda House, Dublin Road,Navan, County Meath
All correspondence relating to Planning as documented below can only be lodged at the Planning Department, Buvinda House, Dublin Road, Navan, Co Meath
Planning Applications accompanied by a fee
Further information responses
Submissions from the public together with fees
Compliance proposals
Payments for Development contributions
Submissions to forward planning / zoning proposals
Public Opening Hours: 9.00am – 1.00pm & 2.00pm – 4.00pm Monday to Friday